Hyundai Motor Group will boost investments
In the United States to focus on innovation e
To drive on the move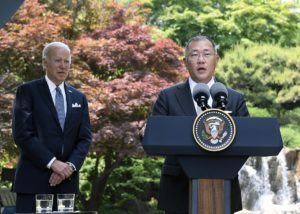 Image credit Hyundai Motor Group

Hyundai Motor Group (HMG) will invest more than $10 billion in the US by 2025 to ensure future growth

This investment will cement HMG's global position as a "first mover" in innovation and next-generation mobility solutions and will power US manufacturing

On May 20, HMG announced a new $5.54 billion electric vehicle and battery manufacturing facility in Georgia to lead the electric era in the United States.

HMG's investments will support the development of key activities for the future, including robotics, artificial intelligence technologies, advanced air mobility and autonomous driving.

Investments will also be made to allow HMG to explore new areas of business in the United States

HMG will continue to invest and enhance research and development activities in the United States to develop world-class vehicles under the Hyundai, Kia and Genesis brands
Hyundai Motor Group (HMG), a global company that has built a mobility-driven value chain and works to support a better future for humanity, has reaffirmed its commitment to expand investment in the United States to pursue its goal of providing sustainable and intelligent mobility solutions to US customers.
The group's plans, which include investments of more than $10 billion, aim to accelerate innovation and electrify mobility. The selection supports carbon neutrality goals with new technologies and contributes to industrialization in the United States.
Earlier this week, Hyundai Motor Group announced a $5.54 billion plan to build the first electric vehicle (EV) and battery manufacturing plant in Georgia, in order to build a wide range of new and innovative all-electric vehicles. US customers.
The new plant, located on a 2,923-acre designated area in Bryan County, Georgia, will open in early 2023 and commercial production is expected to begin in the first half of 2025 with an annual capacity of 300,000 units. The new facility will help HMG drive the US auto market's transition to electric vehicles and support the group's roadmap to become one of the three largest electric vehicle suppliers in the United States by 2026, contributing to the growth of American innovation and production.
The new facility will implement Hyundai Motor Group's many advanced intelligent manufacturing technologies, with a highly flexible and automated manufacturing system that organically connects all elements of the electric vehicle ecosystem to generate value for customers. As part of the group's commitment to sustainability, the facility will primarily use renewable energy sources to operate the facility and will use emissions reduction technologies to meet RE100 requirements.
"We have come a long way and achieved great success in a short period of time, but we are also preparing for our future," said Eason Chung, CEO of Hyundai Motor Group, after meeting with the President of the United States. Join Joe Biden in Seoul. "The group will strengthen its partnership with US public and private entities to deliver innovative products and mobility solutions to our valued customers in the United States, while supporting global efforts for carbon neutrality."
As a global leader in innovation, HMG has made a number of additional investments to advance key activities in the future, such as robotics, advanced air mobility (AAM), autonomous driving and artificial intelligence (AI). This will allow HMG to offer different mobility products and services with greater safety and convenience.
Robotics is an essential part of the group's transformation into an intelligent mobility solutions provider. After acquiring Boston Dynamics, the industry innovator, HMG has intensified its focus on developing robotics to improve people's lives through a suite of mobility solutions. The group is committed to Boston Dynamics' growth by accelerating mass production of the things of the future, improving product range and enhancing its competitiveness.
Hyundai Motor Group is also at the forefront of driverless technology and responding to the rapid paradigm shift in the auto industry with Motional, which was founded in Boston with US mobility technology leader Aptiv in 2020. Motional is currently testing a service of robotic robots on US public roads Target commercial service launch in 2023. The group will actively support Motional in making self-driving technology safer, more reliable, and available to customers in the United States and other parts of the world. HMG will work with US partners to accelerate efforts to make self-driving technology a reality.
To expand the dimensions of mobility solutions, HMG is also developing Advanced Air Mobility (AAM) technologies and infrastructure. Last year, the group launched Supernal, based in Washington, DC, to enhance AAM's capabilities. Supernal is integrating AAM into existing transportation networks and creating a seamless multimodal experience for passengers. The idea is for passengers to use a single app – like existing ride-sharing platforms – to plan their trip, which could include car or train transfers from home to the AAM "vertical port", and city transit. Using an eVTOL and using an e-scooter for the last mile. With the aim of starting commercial service in 2028, Supernal is partnering with key stakeholders to explore concepts of physical and digital infrastructure and ensure the right ecosystem for the AAM industry to take off.
To enhance all future activities and enhance competitiveness in various sectors within the group, HMG plans to increase investment in artificial intelligence technologies and actively seek new business opportunities with local partners to expand the company's infrastructure, achieve carbon neutrality and more.
In addition to enhancing future operations, HMG will maintain steady levels of investment in research and development to continue to deliver exciting and innovative vehicles from its Hyundai, Kia and Genesis brands, as well as to expand and improve existing plants in the United States.
Attached Images – Caption: Euisun Chung, CEO of Hyundai Motor Group, after meeting with US President Joe Biden in Seoul, announced the group's plan to invest more than $10 billion in the US by 2025 to ensure future growth.
"Prone to fits of apathy. Introvert. Award-winning internet evangelist. Extreme beer expert."