For the most part, I hate predictions and I hate trying to make mock drafts. It's so much work that can be completely obliterated by one single trade or Moment of Kahn.
But in honor of the NBA Draft tonight, I just can't hold my excitement. I have to do some type of predicting so I bring you the best and worst case scenario for each of the top 10 picks in the draft. Here is my version of a Mock Draft:
#1 – Washington Wizards
Best-Case Scenario: John Wall. Wall is seriously coming into the league with a gas can and a book of matches. He's going to burn this place to the ground. He's quicker than just about everything. He has fast-twitch muscles in his legs that resemble pogo sticks. He has great reach and can finish with the best of them. He's going to be a very incredible defender. No, he's not a great shooter but that's not necessary right away to be successful as a point guard in this league. The Wizards needed a rebirth after the Gilbert Arenas fiasco last season and are getting that tonight. Enjoy, District of Colombians.
Worst-Case Scenario: Someone cut the phone line. Really the only way the Wizards can have a bad moment here is if the phones don't work, time runs out on their pick and Philly gets to swoop in and make their selection first.
#2 – Philadelphia 76ers
Best-Case Scenario: Aside from faulty AT&T service from Washington, the best-case for Philly is still to grab Evan Turner. Turner is one of those Brandon Roy-type of players that can do it all and do it all well. He's probably never going to be a Top 5 player in the NBA but he also probably won't be far from it either. Turner will be a triple-double waiting to happen once he gets handed the reigns. He gives the Sixers a lot of different options on the floor until the Sixers decide what to do with Iguodala.
Worst-Case Scenario: Doug Collins being the next head co… Oops! Ok, maybe the Eddie Jordan hire wasn't great. Personally, I think he was a pretty good coach in Sacramento and for the most part when he was Washington. But the fit seemed pretty bad in Philadelphia after a short time there. The problem for the Sixers is they have no direction. Switching coaches three times in three years is not a recipe for success. And now they've hired a guy that had a rough go of it the last time he was in charge of a team. This has disaster written all over it.
#3 – New Jersey Nets
Best-Case Scenario: Derrick Favors. Favors seems to be the smartest pick here even though I don't think he's the best player available. He'll play much better next to Brook Lopez than DeMarcus Cousins probably can and he'll be very active on the glass. Favors can probably become an All-Star caliber power forward in the East and help continue to develop a nice young core with Harris, Lopez, Lee and Favors to entice a top-level free agent this summer. While I don't think Favors is in that category of being able to change the game in any way, he seems like a great fit and a nice prospect for Nets fans to watch grow.
Worst-Case Scenario: Those Wesley Johnson rumors were ugly and that's the worst-case scenario for the Nets at this point. Wesley isn't a bad player. He just shouldn't be the third pick in any draft. Plus, with Wes being the pick at number three it probably would have meant Carlos Boozer was going to be the target in free agency this summer. Sure, you're be improving a team that barely won 12 games this season but not enough to make fans want to give a damn.
#4 – Minnesota Timberwolves
Best-Case Scenario: David Kahn forgets what day it is and doesn't accompany the Wolves front office in making a selection. Look at the damage he's done over the last couple of days. He claimed that it would be hard for him to screw this draft up (without realizing that those were verbal daggers into my eardrums). Then he almost traded Al Jefferson for Zach Randolph. You know, David… if you don't want me to be a fan of the team, you just have to say so. No need to drag all of the other fans into this. Just ask me to leave.
Worst-Case Scenario: David Kahn remembers what day it is. HE ALMOST TRADED AL JEFFERSON FOR ZACH RANDOLPH!!!!! This is astounding to me. What's the best year Zach Randolph has ever had in this league? And I'm not talking pure stats but an overall sense of worth. It had to be last season and the Grizzlies didn't even make the playoffs. Kahn was about to put Randolph and Love together in the frontcourt with Darko Milicic as the hand that rocks the cradle. How was this ever considered? Some GMs have a knack for the NBA Draft and the others run my favorite team. UGH.
#5 – Sacramento Kings
Best-Case Scenario: DeMarcus Cousins. There isn't a better option for the Kings. He's more important on this team than even Evan Turner could be. The Kings need a monster inside. DeMarcus Cousins is easily capable of being that monster. With the way I saw Coach Westphal handle different things this past season, I think he can deal with Cousins' legendary temper. Yes, there is a good chance that Cousins will be a malcontent in his first go-around with the league and might need a change of scenery at some point to reform. But if that doesn't happen and he just gets it right away, the Kings would be set with a phenomenal post player and an unstoppable guard.
Worst-Case Scenario: DeMarcus Cousins comes to the team and the Kings decide to bring in John Calipari to be the new head coach. No, this has no chance of happening. But it crossed my mind when trying to find a worst-case scenario and it was either that or writing about Cole Aldrich here. I don't really feel like writing about Cole right now.
#6 – Golden State Warriors
Best-Case Scenario: Ekpe Udoh. Udoh isn't the best player available by any means and he's probably going to be difficult to watch on offense. But the Warriors need someone to protect the basket and I don't think you can find anyone better in this draft than Udoh to do that. Udoh can block and challenge a lot of shots throughout a game. With the way the Warriors play defense, he'll probably lead the league in both blocks and fouls as a rookie. Five per game for each wouldn't be out of the question.
Worst-Case Scenario: Charlie Bell is your starting center. It's Nellie's last year (presumably). You don't think he'll go out guns blazing and trying to leave his mark on the game of basketball? Charlie Bell at center does that.
#7 – Detroit Pistons
Best-Case Scenario: Trade up and go get Cousins! I just don't understand what the problem is here. The Wolves are willing to deal the fourth pick. I know they say they aren't but there has to be a package available for the Pistons to move up. Prince, #7 and Summers/Daye would most likely get the job done. How could you not pull the trigger on that deal if you're Detroit? What's the hold up? Nostalgia? Get over it! Go get your star of the future. It's the only way for this team to be relevant for the next four years (coincidentally, that's when Charlie V's and Ben G's contracts expire).
Worst-Case Scenario: Last summer. No, they can't repeat what happened last summer but they also can't get away from it for another four years. They are stuck in standings limbo as they watch other teams make moves with cap flexibility all around them.
#8 – Los Angeles Clippers
Best-Case Scenario: (Insert Donald Sterling's demise joke here)
Worst-Case Scenario: (Insert Donald Sterling staying as the owner joke here)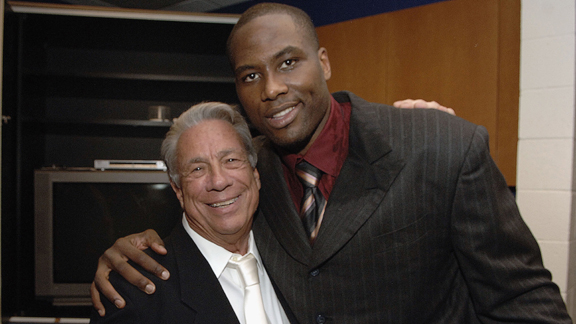 #9 – Utah Jazz
Best-Case Scenario: Still can't believe they have this pick and the Knicks don't. Xavier Henry is the best move for the Jazz here. He's probably a year or two away from truly being a contributor in this league but the idea of him and Deron Williams in the same backcourt together is pretty fun. Jazz really can't screw this pick up because it's free talent for them. Thanks again, Isaiah.
Worst-Case Scenario: Re-signing Carlos Boozer to a big deal in order to retain him. Just let it go and give yourself another year to retool the roster into something great. Suture up the wound; don't slap a band-aid on it.


#10 – Indiana Pacers
Best-Case Scenario: Ed Davis. I'm not quite sure why people are SO high on Ed Davis. I think he's a nice prospect and will be a very serviceable player in this league. He can probably even be a perennial starter on a good team for much of his career if he continues to develop. But to think this guy is a future star is sort of insane. At the same time, the Pacers need to be smart about this pick. Grabbing some flavor of the month wing player is probably a bad idea. They can probably trade for a point guard and get more of a steady hand than any rookie could give them. Davis gives them some more options inside. Put him next to Roy Hibbert and that's not a bad big man combo for the next half decade.
Worst-Case Scenario: Grabbing another white player. I know Luke Babbitt and Gordon Hayward are in the mix. And they'd probably be fine selections to add to the scoring punch of this team. But the ruthless and unmerciful ribbing Pacers fans would get from EVERYBODY around the league would just be sort of cruel. It would be funny as hell but it would be cruel.
More Random Predictions:
– David Kahn will undoubtedly make some stupid pick or trade that causes Matt Moore to flood my cell phone, gChat and email with torturous comments. I will then block all communication with Matt until Kahn is fired in 2024.
– The Grizzlies end up keeping all three of their first round picks because of Michael Heisley. They could probably move up in the draft by packaging a couple of them or they could acquire a pretty good player by letting someone like Cleveland get back into the first round. But more likely, Michael Heisley will control his team's fate and Thabeet the hell out of the fans' hopes.
– Patrick Patterson will be a little cross-eyed during his interview. It will make me giggle and question his ability to make it in this league.
– Hornets fans will be upset that they didn't draft Cole Aldrich. The rest of the world will want to slap some sense into them.
– Sam Presti will once again show us how it's done. It's really not fair that he's SO GOOD at the draft and the rest of the league is SO MEDIOCRE at the draft. Somehow, he moved up to the 18th spot and grabbed a decent role player without having to give up much at all. He finds the teams desperate to cut payroll (even though it's not much at all) and he wipes the floor with them. It's actually quite impressive to watch.
– We will all enjoy a night of chaos and trade rumor tornadoes. The NBA Draft is one of the best nights of the year for sports. Celebrate it. Â