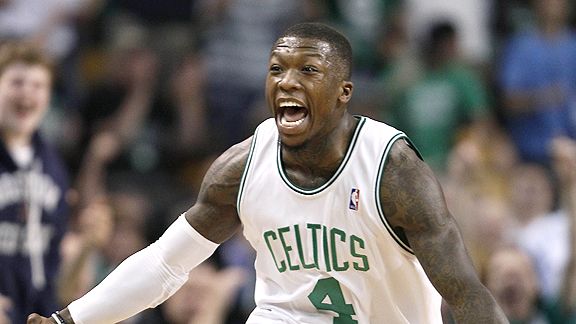 There hasn't been much for Nate Robinson to be excited about over the course of his five-year career. He put up some decent numbers with the New York Knicks — but nothing earth-shattering — and he has a few Dunk Contest titles under his belt.
Other than that, Robinson's stint in the NBA has been largely unspectacular. He has shown flashes of greatness with his solid three-point shooting, inhuman athleticism (especially considering his tiny 5-foot-9 frame), and unflappable fearlessness. But he's had many problems.
His unpredictable emotions have been just as much a deterrent as they have been a bonus. Robinson has negotiated many issues with coaches, referees, and teammates. In fact, earlier this season, he got in to a tiff with Knicks coach Mike D'Antoni, who subsequently confined Robinson to a bench role on one of the worst teams in basketball — and not because he lacked talent.
Then Robinson caught a lucky break. Shortly before this year's trade deadline, the Boston Celtics sprung Robinson from his negligible role in New York, giving him a new opportunity to play in New England on a team headed for the playoffs. Then again, at that time, the Celtics looked like they were limping to a first-round exit against whomever they drew.
During the regular season, Robinson's playing time with Boston was, once again, fairly limited, as he served as the backup to blossoming star Rajon Rondo. He managed only 14.1 minutes per game and was relegated to basically a spot-up shooting role, taking over half his field-goal attempts from three-point range with only 2 assists per contest. It wasn't much of an improvement from his days playing in MSG.
Nevertheless, he got his first shot at the playoffs. Apparently out of the rotation for the Celtics, Robinson was a nonfactor in the team's first two series against the Miami Heat and Cleveland Cavaliers.
Doc Rivers remained confident that his midseason acquistion would play some sort of role in a run to the championships.
"There will be a game where we're flat, and we're going to need somebody to come in and make something happen … He's going to win us a playoff game," he said.
Then, in this current series against the Magic that time when they were flat arrived. In Game 5, the Celtics were struggling with many injuries, and Robinson got some time toward the end of the game. While his contributions were, for the most part, pedestrian, he clearly showed Rivers something with a nice three-pointer and some athletic blocks against the Orlando bigs.
So when Rondo hit the floor in the first half of Game 6 and had to sit down, Robinson got the call. In limited action in the first half, Robinson was magnificent: he contributed 13 of the team's 55 points at the break. He completely reversed the negative sentiment amid the crowd after Rondo went down hurt, and his emotion energized everyone in the building.
So Robinson may not have been in the rotation at the beginning of the playoffs, but as Rivers predicted, he is helping the Celtics win this potentially deciding Game 6. Not only that, he has shown he can play when it matters, so he could be a factor in the NBA finals.
How's that for a guy who was riding the pine for the Knicks just a few months ago?