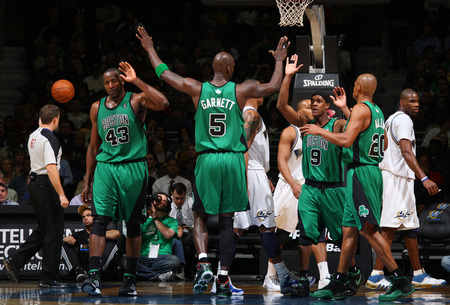 It's no secret that success for the Orlando Magic begins and ends with Dwight Howard. His impact on the offensive and defensive end is so crucial to the team's culture of winning.
It's also no secret that Howard often has his troubles coping in the paint on offense and in his personal-foul management on the defensive end. When he succumbs to these issues, the Magic tend to lose.
With the team down to the Boston Celtics 2-0 (and well on its way to a third loss to their Eastern Conference counterparts), D12 hasn't yet had a good game. Looking back on his dominance in the first two playoff series against the Charlotte Bobcats and the Atlanta Hawks (and the team's according blowout wins), it is evident that the problem isn't with Howard; instead, it is mostly because of the effort of the Celtics defense that the Orlando center has provided so little offensive production.
Looking at Howard's role in his team's offense, his post skills and scoring ability down low play only a small part in his effectiveness. His ability to draw double-teams and create open shots for his teammates is where his true value manifests itself. As a result, it stands to reason that opposing teams who can get by without doubling Howard are better off on the defensive end.
During the regular season, 18 of Orlando's 20 losses came to teams who have centers capable of defending Howard in single coverage. That says something about his passing ability and the detriment of helping on him on defense.
In the playoffs, the Magic quickly dispatched the Bobcats in Round 1. Nazr Mohammed, the Bobcats' starting center, isn't exactly equipped to handle the load.
But in the second round, they squared off against the Hawks. Al Horford was one of the players I counted as someone who can counter Howard on his own. He definitely can. So why did they sweep the Hawks and now face a troubling deficit to the Celtics?
Well, both Atlanta and Boston have the resources to play single coverage on Superman. The Celtics, however, have a particular advantage. Whereas the Hawks must to resort to Zaza Pachulia to guard Howard when Horford is on the bench, the Celtics never lose a step; there's always someone who can keep him in check.
Whether it is Kendrick Perkins, Rasheed Wallace, Kevin Garnett, or, to a lesser extent, Glen Davis, there's always someone roaming to cause trouble for Howard. But the advantage doesn't stop there. In addition to the depth of the front court on defense, each of these guys has his own particular niche in his game.
One minute, Howard's facing Perkins, who relies primarily on his strength to deny Howard position and make him take more difficult shots. The next minute it's Garnett, who takes advantage of exceptional finesse, timing, and positioning to protect his basket. Later, Howard might see a defensive matchup from Wallace, who tends to frustrate Howard and can affect his shots with his length.
The variation in the defensive styles that the Boston forwards use is undeniably frustrating to Howard, and it prevents him from getting into any reliable rhythm. And if there's one thing that no one wants to see, it is Howard's playing in rhythm.
Sure, Boston's defense is immaculate overall. But at the core, at least in this series, is a deceptively inconspicuous front designed to limit the key cog in the Orlando offense. And that's why they might not lose one this series to a team that previously hasn't suffered a defeat in a month.