First was LeBron James. Next was Dwyane Wade. Today I'll be looking at the shooting tendencies of Kobe Bryant. My methods will be the same as with the first two, so if you have any questions about how or why I do certain things, be sure to check out those first two articles.
Here are Bryant's shooting tendencies by quarter: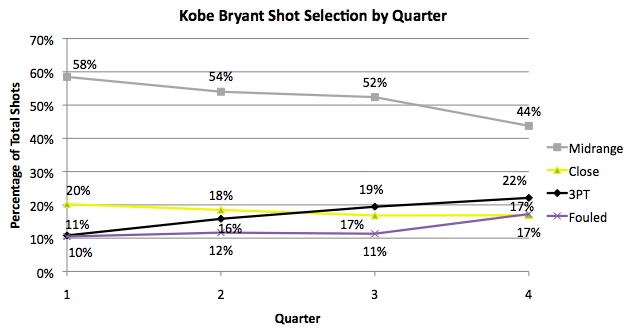 If you read my pieces about James and Wade, the first thing you'll notice is that Bryant takes a lot more midrange shots and much fewer close shots than the other two. However, he does have one thing in common: as the game goes on, Kobe favors the three-ball more and more. Those shots make up just 11% of his attempts in the first quarter, but they double to 22% by the fourth. However, unlike the other two, these attempts do not come at the expense of close shots. Close shots do go down slightly, but Kobe also seems to make a concerted effort to get to the line as the game wears on, especially in the fourth quarter. Instead, Bryant chooses to forgo midrange shots (which is a smart decision, as we will see later).
Why is Bryant more relentless at taking it to the basket than James and Wade? Part of it could be a personal mentality, and part of it could be less fatigue. After all, the Lakers can offer much more offensive support for their superstar than the Cavaliers or the Heat. Whatever the reasons, Bryant is able to take more efficient shots (three-pointers) in the fourth than he does in the first.
How about his efficiency on those shots? Let's take a look: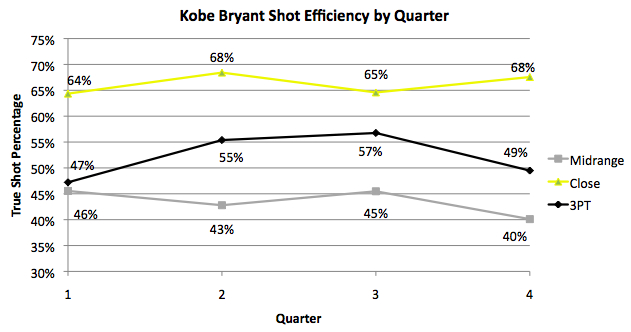 Like most players, Bryant has his ups and downs. However, I see three general trends: midrange efficiency decreases slightly, close efficiency increases slightly, and three-point efficiency peaks in the middle of the game. Still, at all times Bryant is more efficient from three than he is from midrange, so his shot selection trends seem to be wise decisions.
I'd like to keep looking at individual players, but I may switch gears and look at a big man next. The results may be drastically different, so stay tuned.